The 'pawsome' challenge of Pooch Perfect
Broadcast • January 2021
Covid-19 played havoc with the planning of our BBC1 dog grooming competition series but it might have also made it better, says Damon Pattison
Pooch Perfect, BBC1
Production company Beyond Productions

Commissioners Kate Phillips; Katie Taylor

Length 8 x 60 minutes

TX 8pm, BBC1, 7 January

Executive producers Damon Pattison; Susanne Rock

Director Tony Grech-Smith

Series editor Zoe Thorman

Series producer Lucy Youngman

Head of production Claire Browne

Production manager Melanie Rainbow

Creators Nikki Pinkus; Damon Pattison

Post-house Dock 10

Distributor Beyond Rights
I'll start by rehashing the speech I gave after we wrapped Pooch Perfect, as it helps encapsulate our experience. "I still can't quite believe that we have made it to the end," I said.
"Fate has not been our friend. From the moment the show was commissioned, someone in the cosmos started taking the piss and threw everything at us – including the leaking sink in pod four.
"A global pandemic, followed by a total lockdown, followed by a local lockdown the night before we were due in studio. We totally changed the format to allow social distancing, we rebuilt the set, we changed how we filmed everything, we never met a groomer in person before they were cast, nor met any dog face-to-face until they turned up at 7.30am each morning.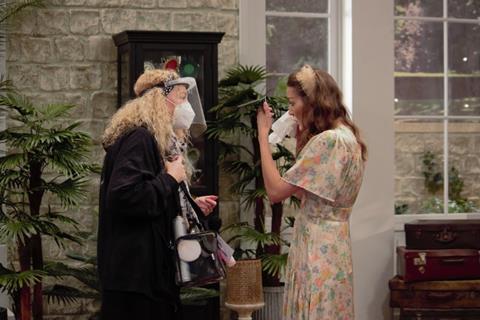 "We cast some of our onscreen talent, vet Bolu and judge Verity, via Zoom (who knew that Bolu was so tall). We lost Sarge, our camera supervisor, just before we started filming as he broke his ankle falling down a hole – ironically whilst out walking his dog. We stared Covid in the face – and laughed."
The rest of the speech was filled with gushing expletives that no-one wants to hear.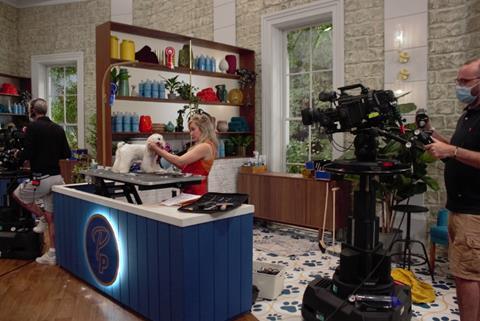 Pooch Perfect was commissioned in February last year and we were due to be filming in June. Kate Phillips, then BBC controller of entertainment, had the genius idea of asking Sheridan Smith to host. Kate, commissioning editor Katie Taylor and I met Sheridan and she said "yes". Hooray.
However, unobservant as I am, even I couldn't help but notice that Sheridan was six months pregnant and her due date was in the middle of our shoot. So, we shifted our dates to accommodate her and figured that if that were the worst that we'd have to cope with, we could manage.
Everything out the window
Then the world fell apart. Everything we had promised, planned and budgeted for, was thrown out the window. We had to re-think everything and tasked ourselves with delivering the essence of what we had promised without spending more money than we had agreed. Yikes.
The series originally featured ten teams of contributors, comprising a groomer and their assistant who would be whittled down over the series. Twenty contributors in studio? Covid says 'no'. Goodbye assistants.
Then the format was adjusted so that four groomers faced off in four heats with two going on to the next stage (quarter finals, semi -final and the final). Fewer groomers in the studio meant fewer crew on the studio floor.
But reducing the number of groomers in each show meant that we had to cast more groomers overall – none of whom we could meet – so, casting became a series of elongated video calls. And, in this show, there are two types of contributors: the two legged and the four-legged kind and dog casting was a worry.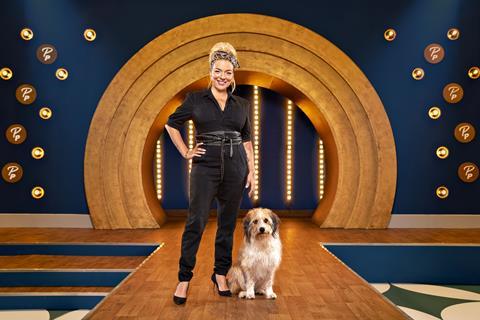 In truth, it was vomit-inducingly daunting. The dog's hair must be the right length and must be properly looked after so that the groomers can cut, clip and style against the clock. The dog must have the right temperament and be fit and healthy.
We had planned to meet every dog beforehand with our vet and a grooming consultant to check them in person. But Covid said no. So, planned 10-minute face-to-face meetings became another laborious set of video calls and checks.
On studio days, our vet, animal welfare advisor and grooming consultant met every dog and every owner. It was at their sole discretion whether a dog could be used.
My tricks of the trade – Damon Pattison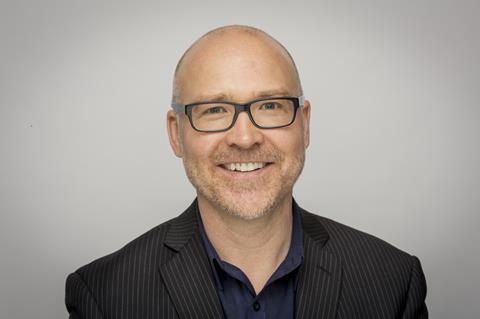 Be aware. How is everyone doing? No, how are they really doing? Are they working too much because they are at home and literally cannot escape work? Stop them. Let them know that it is okay not to work.
Be useful. Pick up the dog shit. Literally and metaphorically. Work out how you can help others to get on with their job.
Beyonce. Only work with fabulous people both on and off screen. Life's too short.
But if a dog was turned down for any reason, we couldn't just replace it as these dogs' coats had to have been growing for around six-eight weeks, so we obviously overbooked. But every morning we met at 07:30 with clenched teeth (and clenched buttocks) and asked, "Do we have dogs?" Somehow, we did – although it was very close.
We had to contend with myriad other, 'tiny' issues from a total set redesign to a complete rethink on how to film it all. We had to question everything, but we also made TV like we used to do with a director, a set designer and a lighting director who (thanks to Covid) were suddenly free to join our endless Zoom calls.
They helped shape key decisions, rather than joining us late in the day with everything set in stone – for better or worse. So, whilst Covid may have messed everything up it may also have made things better.
Designing a Covid-safe doghouse
Tony Grech-Smith
Series director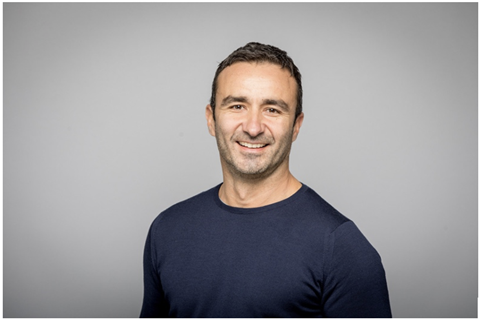 Filming Pooch Perfect in Covid times certainly brought its challenges. One of the biggest was finding a large enough space with character to film in.
Ideally, we wanted a 'real' venue but finding a location that offered us everything we needed proved impossible, so instead we went in search of our ideal exterior location and once found, used that as our inspiration for what ultimately became our studio set.
Dom Tolfts' design was brilliant. It was sympathetic and truly represented the exterior location, even down to taking a panoramic photograph of the view from the house and printing it on a massive cyclorama so that the views out of the windows were accurate.
Julia Smith, our lighting director then lit the studio so that it felt as if natural sunlight was pouring through the windows. Shadows are deliberately harder on one side of the studio than the other to simulate how sunlight might react through a window.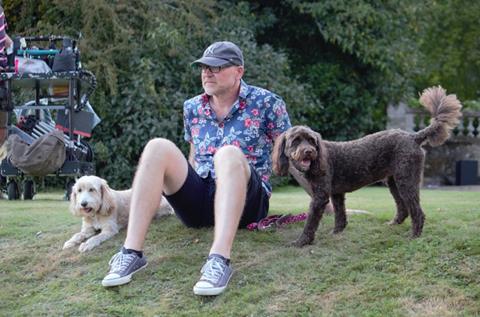 help with hygiene and social distancing, we gave each groomer their own salon or 'pod'. These were made large enough for cameras to enter whilst remaining two metres away from the groomer. Also, individual spaces meant we didn't have to worry about cross contamination.
Reality shows like this might ordinarily use handheld cameras to get really close to the action, but to help with social distancing we opted for pedestal cameras with longer lenses. The pod layouts were designed so we could see everything from outside the pods, meaning cameras didn't have to get too close.
Sheridan and the judges also had to remain socially distanced, so we designed the pods to allow for cross shoot chats with the workbench acting as a natural barrier. This meant the space between people didn't feel awkward, plus the dog was always featured.
So, we'd overcome our location, how we lit it and how it was shot. We even had to guide our groomers through putting on their own personal mics to avoid getting too close. Everything took longer than it might otherwise – and that was before you brought dogs into the mix.